My mom and I discovered the Japanese fabric store together two years ago. Under a blue awning, in a part of town we rarely went, these Japanese-print clothes hung in the window, and we both stopped to admire them. The store gave lessons, so we signed up, and for some Saturdays in a row, we sat across from each other at sewing machines, making our own clothes.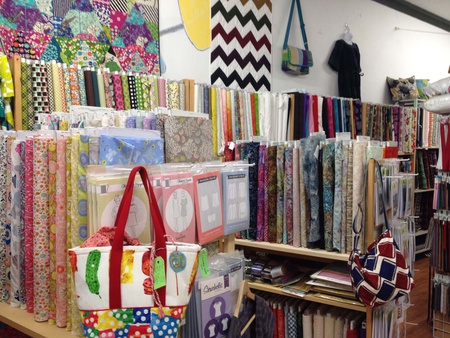 It's hard to untangle all these parts of a simple story about sewing together, mother and daughter. First, there's the part about making things by hand, like she taught me to do when I was young. Together, we strung beads, measured flour, ironed bunny motifs onto canvas tote bags, decorated my plastic Kumon folders, which I dutifully filled with finished math drills on thin, half-sized paper. We went to the craft store together for acrylic yarn, fabric pens, plastic crochet hooks, markers, and those little beads you put on spiky molds and iron until they smell like poison.
Even though she came from Japan, and I came from California, our family moved seven times before I turned eighteen, and my mom and I learned how to craft every region-specific thing. Best of all were the mums and garters of Texas football tradition, on which long ribbons in school colors hung off oversized artificial chrysanthemums, decorated with all the parts of a teenager's high school identity: a football, a flute, the name of your homecoming date inside of a heart.
In one of my earliest memories, I come home from school on the bus, six or seven years old in small-town Illinois, trudge to the door in the snow, and inside my mom waits for me with a plastic easel and paints set up on the kitchen table. For me, making things and being loved might be the same.
* * * * *
At the fabric store, my mom and I walk around pointing out our favorite prints and complimenting each other's choices. I wonder what the result might be if I could count all the hours we've spent together in stores, looking at crafts, books, or clothes.
As we moved around the country, my family grew apart from relatives and drew in closer as a nucleus of five. We kept some familiar comforts across all those moves (from California to the Midwest, back and forth to different points in each, with one stop in the Pacific Northwest): bookstores, coffee shops, Japanese grocery stores, music lessons beginning with the Suzuki method. My brothers watched nature documentaries for children and carried science encyclopedias to school in their backpacks. I wrote, but also I fantasized about clothes. The right ones—shiny pants from Limited Too, or Adidas shell toe shoes, or Abercrombie tees with aggressive branding (the more aggressive the better)—might transform me, make me right for my new environment.
I dragged my mom with me to mall after mall in suburb after suburb. She took me, but at a certain point, she'd break, tired of the prices, the loud music, the heavy perfume smells, and the things I wanted, when she preferred shorts longer, necklines higher. I was selfish and materialistic but not very rebellious, and still my teenage experience grated against hers. In my mom's stories, she studied all night and read every book in her Osaka middle school's library. ("It was probably a small library," said one of my brothers.) She especially hated that I wanted to go with friends to the movie theater, which she called a "meat market," a phrase that horrified me when, at 12, I learned what it meant.
My dad, who grew up in small-town Oregon, tried to play peacemaker when we fought, sometimes saying, "That's what teenagers do in America." According to my mom, between Japanese parents, there should always be one who lays down the rules and one who takes the kid's side, for balance. Also, too much praise makes a kid's head swell. And, by 18, your personality and emotional baggage are up to you.
* * * * *
My obaachan, was a tailor. In her late teens, she left Wakayama for Osaka to study couture sewing techniques. I love her pieces of clothing that I've seen: a grey pleated skirt, a color-blocked velvet jumper, a pink tweed skirt suit I can imagine my mom wearing at 20, riding the train into the city to work. My mom thinks her mom was brave for going off on her own, leaving her relatives and everything she knew back home.
My mom left Osaka for Los Angeles at 22, but she doesn't call that brave. She says she abandoned her family.
I graduated from high school in an L.A. suburb. My family made its last move together just before my 16th birthday, and they still live in the same area. I went to college in Vermont, which my parents liked to say, when they told the story, was as far away as you could get from Southern California without leaving the country.
"Just don't fall in love with a man over there and stay forever," my mom told me when I left for Vermont, then again more emphatically when I studied in Kyoto during my junior year. "Or I guess that would serve me right."
* * * * *
One day in a writing workshop during grad school, a classmate read this line in a personal essay: "good families are built for leaving." The line was a quote from her own mom, and it surprised me. Has my family ever thought that way?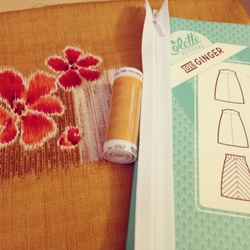 When I moved out of my family's house, first for college, then, one year after graduation, for good, my mom softened. Her hugs got longer, her admonitions shorter. We could walk into stores, knowing we wouldn't have to pay for each other, and relax. When we started sewing together, I liked seeing what we would wear if we had a world of choice. For her first project, she made a pair of wide-legged pants with little maneki neko peeking out of a sea of swirls. I made an A-line skirt in a traditional Japanese print: white flowers and orange squares on a mustard background.
Sometimes at one of these sewing classes, a woman, usually around my mom's age, would say, "It's so nice to see a mother and daughter spending time together."
"You never know where she might be in the future," my mom usually said, "so it's nice to do this while we can."
I've lived here, an hour from my family, for five years now, and I used to feel the itch to keep moving, the way we did throughout my childhood. Now I think, would it be so bad if I stayed a little longer?