We begin with an odd question. Should the Nakamura family house in Sawtelle (pictured above) be "involuntarily designated" a "historic-cultural monument" (HCM) and join the Griffith Park Observatory and a thousand sites on Los Angeles' Declared Monuments List? That question was answered by the Los Angeles Cultural Heritage Commission on April 21, 2016.
Our house is not unique. Sawtelle is a "hot spot" for potential monuments containing about half of all West LA's potential sites: 38 other homes, businesses, and institutions. Just the few blocks of Japantown contains 20 places familiar from my 1950s childhood including my uncle's gift shop, the Maruyama barber shop, and the family owned markets where my mother bought tofu and kamaboko.
Recognition of our history and preservation are good things but when they are defined and achieved through government's use of coercive power, gamed by sometimes predatory interests, and privilege preservation over adaptation, there may be unanticipated problems for owners and communities.
HCM status preserves the appearance of properties by restricting how they can be changed, and special city permissions are needed to modify, repair, or demolish structures. These limit the ability to adapt properties and can affect their value. HCM status also confers some tax advantages, eligibility for loans, and exemptions from some building codes. We quickly decided, in our case, that the restrictions would far outweigh any advantages. My parents came to Los Angeles after Camp and bought our house in 1950. In it they raised us and lived out their days. We kept it so that the property could be adapted to serve as home for two more generations. HCM designation was going to make that far more difficult.
Like all of Sawtelle, I was initially unaware of any of this. So this tale begins with an unwelcome surprise. My sister Kathryn received a registered letter sent February 24th informing us for the first time that the Los Angeles Cultural Heritage Commission was considering our late mother's house for designation as worthy of preservation. In the meantime we were prohibited from changing it.
If my late mother had received this packet of semi-comprehensible legal documents, she would most likely have resigned herself with the traditional "can't be helped" or shikata ga nai response. Unlike my mother, I spent most of my life as a social scientist and have studied how regulation works in other areas and as a retiree I had the time and incentive to learn.
My wife Jaye and I pieced together the following legal and administrative facts.
Anyone with expensive expert help can file a technically demanding application for HCM status.
Our house, to our surprise, had already been previously identified in the West Los Angeles section of Survey LA. This is an official list of places that City experts deemed as potentially qualified for historic designation.
Los Angeles—unlike the Federal and State governments—permits "involuntary designations" that impose restrictions over objections of property owners.
LA designation criteria are broader than those of California or the U.S. so many more sites qualify for City designation.
Owners have only two months to respond before LA Commission action.
Commission deliberation is narrowly focused on determining what should be preserved through HCM status using technical criteria. The Commission is not required to balance the benefits of designation against the costs to homeowners.
We also learned some practical facts about the process.
Participation is expensive. The process is organized by and run for historic preservation experts. In contested designations, the Commission relies almost entirely on information provided by hired consultants making technical arguments. If we were to have any chance at all, we would have to get costly legal and architectural help.
Timing is biased in favor of designation: applicants have as much time to work in secret as needed; the owners were limited to the statutory two months, extensions were rarely granted, and the lag introduced by registered letters and requiring written submissions ten days before the hearing further shortens available time.
The Commission agenda is shaped by whoever applies, and anyone can apply. HCM designation has become a tool for applicants with money to achieve both preservation and non-preservation goals such as advancing "Not In My Backyard" concerns.
The political calculus of the elected City Council tilts in favor of affirming Heritage Commission recommendations. Designations in theory provide the benefit of preservation to the many in the general public while concentrating costs on a few property owners.
Despite bias in the Commission process, our financial constraints made the Commission hearing the only practical arena for us. We were told that the councilmember has a hands off policy on recommendations and it was likely that the Council would ratify Commission actions. We could not afford to litigate our case against the City's lawyers.
While learning all this, I uncovered Sawtelle's vulnerability by counting up sites. The map below illustrates what I found. The confluence Heritage Commission criteria and our own history made Sawtelle structures particularly vulnerable to designation.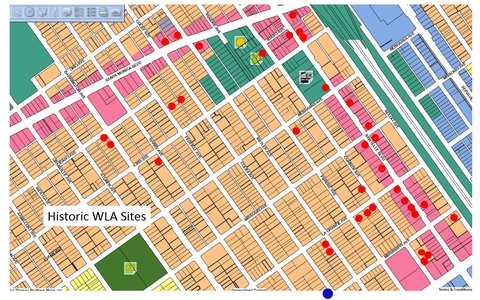 To be designated, a property had to meet only one of four criteria. To simplify, they are: (1) being a notable work of master designer (the Greene and Greene House in Pasadena), (2) identified with a famous person or event (the original Disney Studios), (3) embodying an architectural type worthy of preservation or study, or (4) reflecting the broad cultural, economic, or social history of the nation, state, or community.
Sawtelle has always been a community of ordinary people so few structures would be candidates under the masterpiece or fame categories. Some might be considered under a broad interpretation of worthy architectural type. Our house was alleged to be a "folk victorian" in original condition because it was an old rectangular wooden house with a few embellishments in detail visible through a telephoto lens. Criterion 4, reflecting history was even broader and was used in Survey LA to cover many of Japantown's businesses. So while a popular view of historic sites concentrates on masterpieces and famous people or events, the broader criteria can cover what most people would consider rather ordinary buildings and places. Indeed, their ordinary and common character becomes a reason for seeing how they embody something typical of a time.
Sawtelle's Japantown, like many others, was created in an older part of town because Nikkei in modest circumstances, like my parents, could afford to buy there in more segregated times. In turn, the concentration of Nikkei produced homegrown institutions—temples, churches, schools, tanomoshi credit cooperatives, small businesses—that turned Sawtelle into a good and stable place to live. There was, in addition, another factor, Sawtelle's previous existence as a city that was subsequently consolidated into Los Angeles prior to Nikkei in-migration. Many of Nikkei owned residences, including our house, were included in Survey LA because of their age as pre-consolidation structures. Thus a distinctive history and old buildings worked jointly to qualify many potential sites.
On learning about Sawtelle's "hot spot" status, I contacted community leaders who were surprised at the revelation. While Survey LA was a publicly available document, we owners of listed places were never notified and the potential impact on Japantown went previously unnoticed. The lack of public discussion of potential designations, and the density of sites in Sawtelle, led some to speculate that this might be the first quiet move by preservation advocates to incrementally create a de facto historic district.
That HCM status could have an impact is illustrated by a brief look at two community institutions I attended as a child and have watched evolve. The Japanese school (now Institute) and the WLA Buddhist Temple have remained vital cultural institutions because they adapted over time. Preservation of buildings has been a lesser goal than meeting changing community needs. The Buddhist Temple went from an old wooden structure, to a one story stucco building, then to a two story building, then to a complex of buildings with meeting halls. The Japanese Institute went from a large wooden meeting hall and classrooms to its current structure, and leaders are discussing plans to make it a community center. Should they now be designated, their capacity for future adaption would be constrained. The power to make decisions would have to be shared with new participants—the City of LA, NIMBY motivated neighbors, etc.—with greater powers to stop or delay changes.
As I learned more about Survey LA and the designation process, broader implications for individual residents and the community as a whole became more apparent. First, the relative invisibility noted earlier, none of those associated with the potential sites were aware of the designation process and that they were only an application away from becoming embroiled in it. Second, if designation applications were filed only a few of the owners of the old houses, institutions, and small businesses would have the time, information, or money to participate effectively within the two month window allotted. Third, given the density of potential sites, if the HCM process was widely activated it could have a large impact on the ability to make collective land use decisions by creating a patchwork of physical structures that could only be changed with difficulty. Whether by happenstance or design, this dense pattern of potential sites underlies suspicions about a "stealth" effort to create a de facto historical district without wider discussion.
LA's power to make HCM designations is a fact of life and Sawtelle seems especially vulnerable. The process by which that power is exercised would be improved by having Sawtelle input. There is a special case to be made for providing this community with that chance. First, the density of Sawtelle sites means that the potential for impact is greater than in places where sites are more scattered. Second, the explicit rationale for many future designations will include commemorating the history of the Nikkei community. Unlike many other historic periods, the history of Japantown is still in the living memory of many residents, as well as in the family lore of others, and their views of what is important to their history should be considered along with the judgment of architectural historians. And third, participation by community residents is a good way to introduce concerns about the ability to adapt properties in a living and dynamic community to what is now a process primarily focused on minimizing physical change.
Now we return to how our own story ended at the April 21st meeting. We argued that our house was not the unchanged "folk victorian" created by a craftsman in 1906 rather it was adapted to our needs for over thirty years by my late father, Kenzo Nakamura, using carpentry skills he acquired at Tule Lake. A report from our architectural consultant documented many of the changes. The commission asked the applicant's consultant what was the distinctive architecture of "pre-consolidation" Sawtelle and she had no answer. It was clear that the Commission considered the Nikkei period—which covers Sawtelle's history from the pre-War period to the present—to be a better defined part of the area's past than the earlier pre-consolidation Sawtelle. Some commissioners noted the irony of commemorating Nikkei history by a house designation that reduced the control of a family that lived that history in that structure. They, then, voted to reject the application for historic designation.
The Commission also added something with potentially broader community implications. They told the applicant that if they chose to resubmit, they should solicit community input. While applied only to our house, it is a good precedent and should be expanded. The Commission staff has been contacted about the readiness of a community leader to assist on future designations in Sawtelle. Even better would be if the councilmember would inform the Commission that when Sawtelle designation recommendations are submitted for Council action, he would be interested in what the community response has been. These and other steps would help to improve the quality of designation decisions by involving those whose history is being commemorated.