As a U.S. Army Lieutenant in 1944, I reported to the 442nd Regimental Combat Team Headquarters at Camp Shelby, Mississippi, where I saw the soldiers and wondered who they were, Chinese, Filipino, or Siamese? I admit I had some misgivings and wondered if I had volunteered for the right outfit.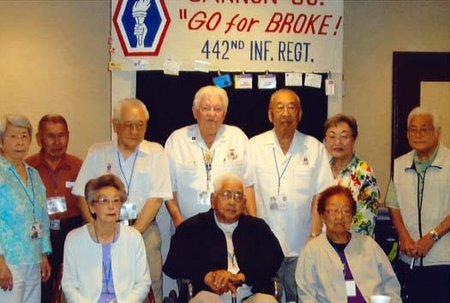 The answer to my question was provided a few minutes later when I was ushered into the office of the Regimental Commander, Colonel Charles W. Pence. He assigned me to Cannon Company and added, "These men are Americans of Japanese ancestry. They are fine soldiers and I am damn proud to be their commander. If you have any problems serving with them, develop a prejudice or bias, report to my adjutant and you will be transferred within 24 hours!"
When I took over my platoon, I was somewhat apprehensive. I did not understand the problems of the "concentration camps" and the relationships between the islanders and the mainlanders. Their names and terms like "Buddha-heads," "Katonks," "Haoles," and their pidgin English confused me. After all, I was just a young lad from the small country town of Stockton, Illinois. We had no African Americans, no Asians, and we knew no prejudice growing up. Perhaps we were a little naïve encapsulated in our own little world. Nevertheless, I was not going to chicken out!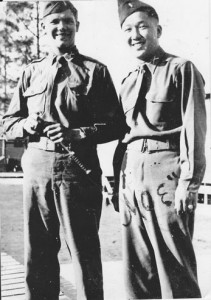 By the time we left for Italy, with help from my Platoon Sergeant Hajime Kamo, and Sergeant John Kashiki, I had pretty well mastered their names. I shared quarters with 2nd Lieutenant Hitoshi "Moe" Yonemura, a fellow platoon leader. We became close friends, and it was he who educated me about Executive Order 9066 and the incarceration of ethnic Japanese on the west coast of America.
Yonemura's family had been sent to Heart Mountain, Wyoming, where he went after graduating from UCLA in 1942. We had many discussions about this by the railing of our liberty ship as we crossed the Atlantic. I began to sense the pathos and concern of my men who had families in the concentration camps, and the longing and loneliness of the men from Hawai'i.
It awakened me to just how much anguish, stress and, most of all, sacrifice my men experienced just because they were different. All of that was in addition to being under the duress, danger, and hardships of combat. I understood their desire to prove their loyalty and patriotism and to be recognized as good citizens. I even questioned myself. I knew then, and vowed to myself, that I would be the best damn platoon leader I could be!
After World War II, I continued with my military career. When the Korean War broke out I was shipped to South Korea in December 1950. I was assigned to the 1st Battalion, 7th Regiment, 3rd Infantry Division, and fought in four campaigns from January to December 1951 as a rifle company commander.
Subsequently, I had the good fortune of being assigned to the 25th Division at Schofield Barracks, Hawaii, where I reconnected with the men of the 442nd and Cannon Company. In December 1962, I was assigned to South Vietnam for a year as the briefing Officer for Chief, Military Assistance Advisory Group. I retired in 1964 after 21 years of service.
After my assignment with the 442nd RCT, I could not help but compare that experience with the desegregated Army units of post-World War II. The circumstances of the Nisei were different, of course, than circumstance during the Korea and Vietnam Wars. Yet, when bullets, shells, and grenades are coming at you, it is not much different no matter which war it happens to be!
In my humble opinion, and with due respect to all others, the "esprit de corps" of the 442nd was the most outstanding. In addition, I pay tribute to the Nisei who have carried the torch from World War II into the present time. The spirit of "Go for Broke" has never ended.
The success of both their individual and group endeavors have enriched their communities and have left an amazing legacy for their sons and daughters and the generations that follow. I can honestly say that the greatest experience of my almost 91 years has been the kindness, the friendship and the love of Cannon Company veterans and their spouses and the remarkable 442nd Combat Team. I thank the powers above for the small part I had, and am damn proud to have served!
*This article was originally published on Asian American Press on September 8, 2012.