Part 3 >>

Endless Memories

Hamako endlessly recalls memories of her father. They include sides of Amano that only she may know of.
Amano went from Akita to Yokohama and had struggled quite a bit. He attended a technical school hoping to become a shipyard engineer, but dropped out just prior to graduation. Therefore, there is no record of his education in his resume.
And then, of course, there were his endeavors abroad. Even after the war, he became the first Japanese person to go to Peru; all of this points to the fact that he was a highly unique individual.
Just shortly after the war, Amano had tried to help Fumimaro Konoe—the former Japanese Prime minister who was opposed to the war with the United States—flee to South America. He proceeded to hire a ship for the escape, but the captain of the ship had fallen from a cliff and died, so the plan was aborted. Konoe eventually committed suicide.
Amano had declined to receive an honorary medal from the Japanese government; on the other hand, he accepted a medal of honor from the Peruvian government. But Amano didn't see these acts as contradictory. "It would simply be rude to decline such a thing from this country (Peru)," he said.
Confucianism largely influenced much of his behavior. In terms of personal possessions, and in terms of money, he believed that one "should not leave a fortune to his heirs," and instead used all of his money for other people. When researchers and archaeological teams from Japanese universities came to visit Peru, he invited them for dinner every night. Not only did he provide meals, but he also greatly assisted in their research, and took them to the hospital if anyone became sick. He never worried about spending his own money for others, and continued to provide a helping hand for years after. "He would've been very successful had he gone into politics," said Hamako, but he was the type of person who would say, "I don't like the military, and I don't like politics."
A Strict Father
Although these stories consistently reflect a warm-hearted individual, at the same time he was also a stern father inside the household. Hamako recalls that her father "was very personable with others, and he always gave high praise to children from other families, so wherever he went he was extremely popular. He was very good at making others feel good about themselves." However, the memories of her own childhood paint her father in a different light.
Even during family meals, he remained very proper. There was a constant nervous tension, which was far from a family-like atmosphere. If anyone brought up a conversation piece, he would ask, "What year did that happen?" If they answered, "I don't know because it was a long time ago," he would respond by saying "I remember every story from every book I read when I was 17." Hamako recalls her brother being so nervous during those times that he "doesn't even remember what he ate."
One time, while she was working at the news station, she told her father that she was going on a company vacation to Izu. Her father replied by saying, "I went there 30 years ago," and proceeded to lecture her on every detail about Izu.
Hamako is still amazed at how her father "was able to compose The Journal of My Incarceration strictly from his memory, without the help of any notes." She continued, "My father had a special ability to remember things. To be with him was like having a dictionary with you. He was a history buff—Chinese history, Japanese history—he knew more details about American history than Americans."
He was a stern father, but he did let loose sometimes. When his business in Panama was doing well, he let Hamako ride the Amano-maru boat with her sister, Ryoko, and they had fun together tossing kohaku manju from the side of the boat (in parts of southern Japan, manju-tossing is a custom for celebratory occasions). It was one of those moments wherein Amano treated his children as equals to other adults.
A Kind Grandfather
Amano came to the United Sates three or four times. One of the times was when Miyoko's younger brother, Augusto, enrolled in the University of Michigan. During that visit, he also went to see the Colorado River.
He was also at Hamako and Harry's home in Encinitas twice over the years. The first time, he came with the father of his second wife, Shizuko. It was around 1957, and he wanted to meet Hamako's family, including her daughter Nakako.
He also continued to treat Hamako's husband, Harry, with kindness.
Here's a story about Amano and Harry: while Harry was studying Japanese, he was reading a book written by Li Xianglan (a famous China-born Japanese actress and singer). When Harry told Amano about the book, Amano asked, "Would you like to meet Li Xianglan?" Then he actually brought Li Xianglan with him to meet them at a restaurant in Tokyo. "I'm so envious that you have such a wonderful father," Li Xianglan told Hamako. "I'll never forget the kind of power that he had," Hamako said.
"He liked me," Harry fondly recalled with a smile.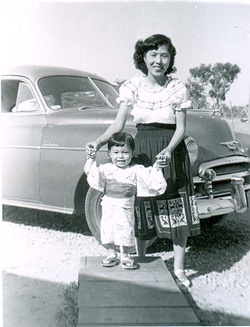 He was a gentle grandfather to Nakako. It was a long time ago, but when Nakako was very young, Amano told her something and Nakako giggled. "Oh, you understand!" said Amano, in English. That made Nakako happy. She felt that her grandfather was praising her.
Nakako had not been home much since leaving for college at the age of 17. Even when she came home once in a while, having so many friends, she would end up going out anyway. Therefore, she didn't really know too much about her own family in detail. However, two or three years ago, she said she wanted to try translating Amano's The Journal of My Incarceration. Hamako was very happy about that. She had hired someone to do the translation for the first two or three pages, but Hamako, Harry and Nakako did the rest.
Nakako has gone to Peru four or five times. "I'd go again once I can afford it," she says. Her husband Bart was a professor at Youngstown State University in Ohio, but he has since passed away. Of her two children, one is a doctor at Kaiser Hospital, and the other is a businessman in Denver. Hamako says her daughter "is busy volunteering and having fun these days," but she speaks lovingly of her daughter, who has now taken an interest into her grandfather's legacy.
Another side note: Amano had met Fred Isamu Wada, who visited Peru in 1959. Wada had visited Peru to solicit support for the Tokyo Olympic Games. Since then the two had kept contact, and when Amano visited the US, Wada drove him around town in his car. Even after they both passed away, their widows, Masako and Miyoko, still maintain a good relationship.
Marking 30 Years after His Death
There is one more thing that left a strong impression with me—that is, Hamako's beaming personality. She is surrounded by a husband whom she calls "a strong, splendid person," and "the easiest person to talk to", as well as a daughter who discovered interest in her grandfather—just as Hamako began to think "There's nobody who knows him anymore; no opportunities to talk about him." After all that Hamako has been through in her life, she is now welcoming the final chapters of her life with a fully enriched heart. With the gentle fields as a backdrop, time also passes by gently at her Encinitas home.
"I wish he would've lived a little longer," Hamako said, speaking of her father who was always willing to give a helping hand to bright young minds. "He would've gotten along well with Nakako. Nakako is quite the smart one." Her words are filled with proud satisfaction.
This year marks 30 years since Amano passed away. In the end, the reason why there are many things about Amano that are "shrouded in a fog of mystery" is due to the fact that he interacted differently with different people, and approached every situation with a fluid way of thinking. Looking back, Hamako describes her father as someone who made plans and decisions based on what the best course of action was for each situation, and for each person that was involved. Perhaps his variability is the reason why many aspects of his life have "remained a mystery" to us.
Along with the help from the words of his daughter, Hamako, I'd like for us all to reflect back on the legacy that Yoshitaro Amano has left us, as we mark the 30th year since his passing. I truly believe that there is so much we can learn from the man who built up something big—something that is undeniably Nikkei.