The Little Tokyo Café, originally created in the late 1920's to early 1930's, and its current owner Mitsuko Minohara, have been familiar to many who lived in downtown Los Angeles. Initially located at the corner of 2nd and San Pedro, the Little Tokyo Café has moved various times, but still manages to hold a special place in the hearts of the locals. Known for its combination plate, which is a mixture of two Chinese dishes, Char Siu and Shumai, this humble little restaurant has experienced nothing short of success over its almost 90 years of existence.
The restaurant itself has relocated 3 times in its history. Mitsuko's parents opened the first restaurant on the corner of 2nd and San Pedro in downtown Los Angeles. It had no booths for group customers, and instead had counters for guests where they could read newspapers and magazines while waiting for their food. However due to the desire for redevelopment of the area, the Little Tokyo Café was forced to move, and made its way to the Weller Street location. The interior of the Little Tokyo Café had a new look, with a V-shaped counter for individual guests while simultaneously catering to small groups of customers with brand new booths. The decision to make this change was made by Mitsuko's mother. Nevertheless, redevelopment seemed to follow the Minoharas and the Weller Street location was closed down for land reconstruction. Luckily enough the restaurant was able to move back near its original location on 2nd Street. By now the restaurant had been passed down to Mitsuko's brother for ownership, but when he passed away, the family restaurant closed down. After a few years of dormancy Mitsuko and her husband decided to open up the restaurant once more, and later they bought their store on North San Pedro Street.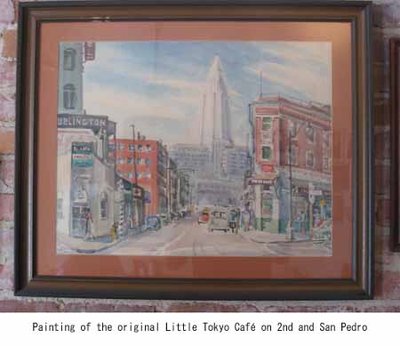 As the Minohara family moved into their new site along with Tokiko Ishi, Mistuko's sister-in-law, and Tamie Blackburn (better known as Yumi-san), Mitsuko's mother's good friend, they came across a problem. The kitchen was completely electric and had no gas, so the kitchen was completely re-done with gas installed and extensions. However, the menu was a completely different story.
The family had a discussion of what food they should offer, and one of the foods that came to mind was sushi. However, at that time there were already five sushi houses located on the same block as the new Little Tokyo Café, so Mitsuko and her husband decided that it would be better not to include sushi on their menu. They did include Japanese dishes such as Tonkatsu (Pork Cutlet), Unagi (Eel), Udon (Japanese thick noodles), and Saba (Mackerel).
Despite being a traditional Japanese-style restaurant, the old Little Tokyo Café once offered various different daily specials. These specials included Monday's short-ribs, Tuesday's curry and rice, Wednesday's roast beef or pork, Thursday's corned beef and cabbage, and Friday's combination plate. The store used to offer these dishes to cater to the diversity of their customers. With all these types of people the original owners of the restaurant (Mitsuko's parents) decided to offer some American dishes along with their traditional Japanese style cooking. However, times have changed since then, and Mitsuko and her husband decided to stick with the traditional Japanese-style dishes, but they also brought along the combination special.
This combination dish contains a mix of Char Siu (barbeque pork), Shumai (Chinese dumplings), cabbage, and rice. This combination plate is the Little Tokyo Café's most popular dish, but strangely enough, Char Siu and Shumai are mostly known as Chinese dishes. Why might this be? When the restaurant originally opened, there was a large population of Chinese who lived around the area in what used to be the Alan hotel. These Chinese immigrants craved the Chinese dishes they'd grown up eating, but they couldn't make the trek over to Chinatown because of their work obligations; thus the Little Tokyo Café became their home-away-from-home. Mitsuko's uncle began experimenting with different recipes for the dishes, and after time finally hit the jackpot and began the legacy of the Little Tokyo Café combination plate.
The Little Tokyo Café has become a favorite of the locals, and Mitsuko and her family enjoy seeing their customers ... most come in so often that they are considered regulars. Many of them have been regulars ever since the opening of the original restaurant; Mitsuko enjoyed watching their children grow up. It is because of the depth of their customer base that the Café has never experienced very much hardship, even in these times of economic difficulty. Mitsuko and her family have taken care of many different customers and their families, including the homeless located around Little Tokyo. Everyday after they close up shop, they will package the excess food and give it to them. As Mitsuko says, "they are just in hard times".
Although many of the other businesses around Little Tokyo are being bought out by a wave of Koreans who are moving into the area, the Minohara family maintains the employment of immediate family members only. However, with only Mitsuko, her husband, youngest son, Tokiko, and Yumi-san working at the restaurant, the Little Tokyo Café is running out of family members to uphold the legacy. With Mitsuko's two daughters in the LAPD, her eldest son working at Universal Studios as a computer programmer, and Tokiko's eldest son working as a chef at the Noe restaurant in the Omni hotel, the Minoharas' and Ishis' historic Little Tokyo Café will soon come to a close. Mitsuko and her husband agreed that they'd keep the store open for as long as they can, but when that time comes around, they will close shop and travel a bit before settling down.
The Little Tokyo Café has served its customers for over 80 years. Very few immigrant family businesses can claim the same history as the Little Tokyo Café. With delicious food, ample seating, and a humble and loving staff of workers, the Little Tokyo Café meets all the requirements for a five-star restaurant.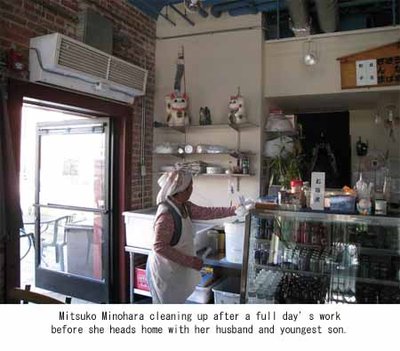 * Discover Nikkei partnered with Professor Morgan Pitelka of Occidental College and his students taking the Spring 2009 seminar "Japanophilia: Orientalism, Nationalism, Transnationalism" on a meaningful community-based documentation project. The students interviewed owners of five long-time Little Tokyo businesses to create Nikkei Album collections and articles.
View the Nikkei Album collection: The Little Tokyo Café