Surprised by the American ideas not seen in Japan

Yokou Kitajima majored in geological engineering at a Japanese university and worked for a landscaping company upon graduation. He entered the Sōgetsu School of Ikebana (flower arranging) during his college years and his career now stems 37 years.
"Gardens and flowers [arrangements] are made the same way—they're just on different scales. The architecture of shin, soe, and hikae are no different from that of Japanese gardens," he says.
In 1979 he left Japan for the United States as an architect of Japanese gardens. In America, after studying under sensei Haruy? Okinaka of the Sōgetsu school, Kitajima started teaching. I asked Kitajima, who had obtained qualification as a grand master of ikebana, about the difference between Japanese and American ikebana:
"Americans are excellent at putting together combinations of color and material that Japanese people would never think of. From time to time I'm impressed to see these ideas that I myself would not be able to come up with. I believe these are not qualities that can be taught, but an ability that they possess naturally. Also, I think there are more opportunities than in Japan, in terms of the wide range of materials available for use. For example, a Bird of Paradise (Strelitzia) is a very expensive flower in Japan, but you see several of them growing on front yards across California. Brilliant material for flower arrangement can be easily found here. I think you can say that the Sōgetsu style, which does not limit the variety of material used, is definitely a worthwhile style of ikebana to work with in California."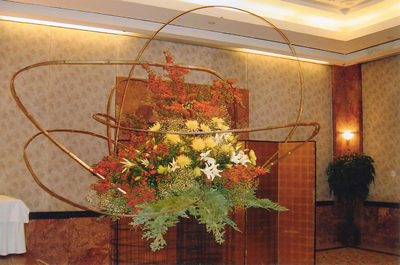 Insisting on hand-made products, from floral vases to floral material
Currently he has about 50 students. I asked him about his communication methods:
"Actually, it's been 29 years since I came to America, but my English isn't so good. But the American students tend to act more 'Japanese' than Japanese people, and there are a lot of them who are very knowledgeable about Japanese culture. Since I'm not very good with English, I try to express myself through actions. I'm constantly learning while interacting with my students."
Kitajima makes an extra effort to compliment the strengths of his students. "People who are good at creating solids/blocks, people who make beautiful lines, people who excel at creating large creations—they all have their individual talents. It's not about pointing out their faults, but about carefully examining their strong points and teaching in a way that enhances their strengths. The type of teaching that pulls forth the best of their talents is the American style of education. Just because it's Japanese ikebana, it doesn't mean that it has to be taught in a Japanese style; the American way of instilling pride in the students' abilities—this is my style of instruction."
He also says that he is constantly looking to challenge his students. "It's not necessary to create a work with the intention of receiving my compliments. Ones who have been doing [ikebana] for a long time already know what kind of works would receive compliments. They also know what methods that are disallowed. But instead of confining themselves within a conventional view, I want them to create pieces that take me by surprise—a piece of work that would make me re-think my own philosophies. When we can transcend the notion of a master-student relationship, and simply create works that stimulate each other's creativity, the atmosphere of the class can become very passionate."
It is not just in his teaching philosophies that he infuses with American consciousness. "When I show it [a piece created in America] to a person from Japan, I want them to think, "Ah, indeed, American Sōgetsu is different." I want it to be a piece with even more freedom of creativity—not just something big, but a piece of work that would really intrigue them."
The materials that Kitajima often uses include palm tree and giant banana leaves, adding a tropical flavor to his works. Since he also manages a nursery, all of the plants he uses are ones that he grew himself. "As much as possible, I try to complete my works out of everything I made with my own hands, so the vases and pots I use are hand-made as well."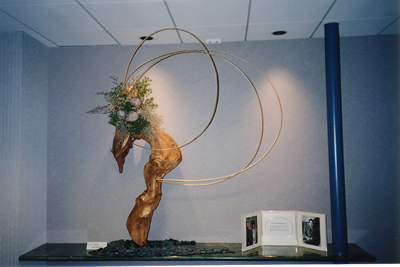 Receiving a standing ovation for a demonstration on stage
With homegrown materials and hand-made pottery, Kitajima has created works in several different places. For several years, Kitajima was responsible for arrangements for the New Otani Hotel lobby in Little Tokyo (now the Kyoto Grand Hotel). Today, he still arranges flowers for the Japanese Embassy in Downtown, Los Angeles. He also submits pieces to the Pomona Fair, where several flower decoration experts come together every year. He mentions that receiving praise from an American expert brings the most joy to him.
Furthermore, ikebana demonstrations are something that Kitajima puts much effort into. Starting with jazz concert collaborations, he had been featured in several events in the past. In conjunction with dynamic movements, he materializes a piece of work starting from absolutely nothing. The moment the piece is completed, he is greeted by a standing ovation from the audience. "It's difficult to gauge response from works that are being displayed in hotels or party halls, but the applause received from the audience in that moment makes me ecstatic, and it provides great inspiration to bring out the best in my works."
In order to become better at presenting ikebana as a show, he says he always makes an effort to watch five-star performances whenever he visits Las Vegas. "Cirque du Soleil, magicians, comedians, everything is a great resource to learn from. I believe that ikebana is also an art that lives because there is an audience."
In other words, he must mean that his works must not be a work of self-satisfaction or a work that lacks an audience. Kitajima says even Major League Baseball also has aspects to learn from. Indeed, compared to professional baseball in Japan, American baseball seems to possess a higher level of professionalism in terms of appealing to its fans.
I tossed a question over at Kitajima: "What exactly does ikebana mean to you?" He replied, "Flowers… in other words, plants, are a part of my family. It makes me sentimental every time I see the plants that I've planted in all of the different areas that I have been. Of course, I communicate with the flowers when I arrange them. When you try to understand the flowers, when you listen closely to them, you can feel just how they would like to be arranged. When you arrange them in a way that ignores their feelings, the flowers become ill and wither away. Ikebana flowers stay lively when the flowers themselves are happy."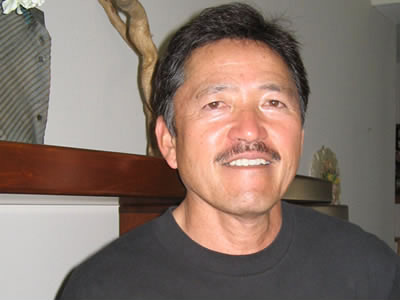 Profile: Entered Sōgetsu school during his college years. Obtained grand master status upon graduating from college. Left Japan for the US in 1979 and began teaching Sōgetsu style ikebana in America in 1982. Currently runs classes in Pasadena and San Gabriel. Manages a nursery. Received "Special Award for Overseas Instructor" from Sōgetsu headquarters in 2007.