You are one of those people who will 'go places in life' – Panda Express fortune cookie
A few years ago, I received this fortune while dining at the Chinese fast-food establishment known as Panda Express. I am not embarrassed to admit that I love their food. (Kung Pao chicken has always been in my top 5!) However, I am a little embarrassed to admit that this fortune probably served as the catalyst that brought me abroad to Japan. Of course, I did not decide right then and there that I was going to move to Japan. Rather, I kept the little fortune in my wallet for a few weeks, peeking at it from time to time. Soon, it made its way onto my bulletin board at work. And before I knew it, I was staring at it all the time. Somehow that tiny piece of paper made me think about my life and what I wanted…to go places, literally.
I was born and raised in Southern California. My father is first-generation Japanese who moved to the U.S. in his 20's to start a business. My mother is a third-generation Japanese-American who grew up in Hawaii and moved to the mainland. They met in the Los Angeles area and married soon after.
I have no complaints about my life. I was raised in a very nurturing and supportive household full of laughter and fun. My parents always tried to incorporate Japanese language and culture in our lives to the extent they could. My younger brother and I both attended Japanese language school on the weekends. For several years, I took Japanese odori dance lessons and my brother took shorinji kempo martial arts. We ate Japanese food several times a week, ate mochi every New Years Day, and took trips to Japan every 4 years or so to visit relatives.
Nevertheless, I was always curious about living in Japan and had a desire to learn more about the culture and of the language. I remember hearing about others who had come abroad to teach; something I had thought about doing since college. Each time, it seemed that the individual claimed it was the best experience of their life. But somehow the time went by, and I never did it. Then, the Panda Express cookie came along.
I had been working as a counselor at West High School in Torrance, CA, for five years when I developed an itch to come over. Fortunately for me, the City of Torrance developed a Sister City relationship with Kashiwa, Japan, in 1973. President Dwight D. Eisenhower started Sister City Programs in 1956 to foster world peace through people-to-people contact. Now in its 35th year, the Torrance-Kashiwa Sister City relationship has borne various programs including a student exchange program, a host family program, goodwill anniversary visits, cultural festivals, and an English teacher program, among others. I decided to take a leave of absence from my counseling position at West High to come to Kashiwa to fulfill this long-time wish.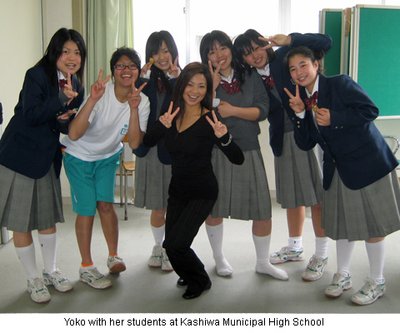 Kashiwa is located 18 miles northeast of Tokyo in the Chiba prefecture. It is a bustling city that still maintains lots of wide-open spaces. It is about three times the population and area of Torrance. I love being here. Kashiwa has both an energetic city feel, yet at the same time has kept the old charm of Japan. I could not ask for a more perfect place to live.
I am teaching English at Kashiwa Municipal High School, a public school with about 1,000 students. I have been here for eight months now and can already see the effects of how this experience has changed my whole outlook on life. In some ways, life here is completely different from that in the U.S. Of course in other ways, I have found certain things to be universal. But overall, I have come to appreciate how difficult and wonderful living in a foreign country can be. There are days when I get frustrated not being able to do simple tasks like reading my mail or communicating at length with people I meet. And then there are other days when I cannot wipe the smile off of my face such as those times I have discovered a completely new and delicious food item or witnessed the blooming of the beautiful cherry blossoms.
I suppose it was not the fortune in the Panda Express cookie I received that fateful day that brought me to Japan. Rather, deep within me, it was something that lay there and just needed to be realized. Whatever the case may be, I will always be grateful to my hunger for Kung Pao chicken that afternoon, for my life will never be the same.