Normally automobiles and alcoholic beverages don't mix, but at the "La Vida Sake" fundraiser event, the cars were parked and the sake helped raise money for the Little Tokyo Service Center.
"La Vida Sake" was a sake and food tasting event held at the Petersen Automotive Museum in Los Angeles, CA on May 22, 2008.
DID YOU KNOW?
In Japan, the word "sake" refers to all types of alcoholic beverages. The correct term for what we know as "sake" is "Nihon-shu."
The sake tasting event was the perfect opportunity for LTSC supporters to learn more about sake and even find a new favorite. At the museum, guests were allowed to roam the collection of classic and one-of-a-kind cars on display while sampling premium sake from the best sake-producing parts of Japan. Known as "jizake," this kind of premium sake comes from smaller, independent breweries that hand craft their sake. Using time-honored brewing techniques and the variation of key ingredients, master sake brewers are able to produce subtle nuances in flavor and aroma.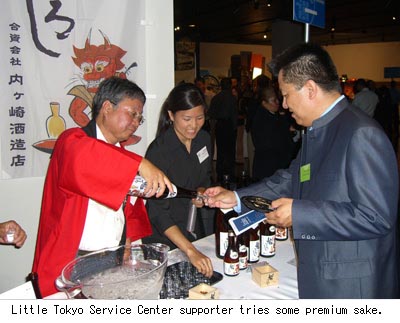 Sake wasn't the only thing on the menu. The evening featured hors d'oeuvres from favorite L.A. eateries, including Maison Akira in Pasadena. Chef Akira Hirose has long been a supporter of the Little Tokyo Service Center and was honored for his community involvement as part of the celebration. "The most important thing in life is to help others, I believe this," Chef Akira said when asked why he gives back.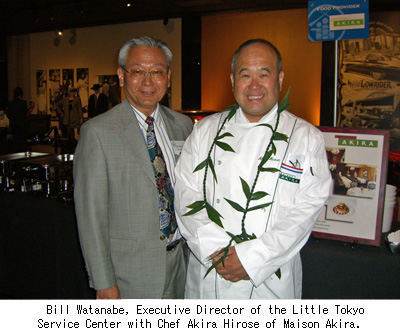 The sake and food tasting event has taken over as the LTSC's annual public event with the decision to shut down the L.A. Tofu Festival, of which the LTSC was the primary organizer. The festival suffered from lack of space as parking lots are being built over by new housing complexes in the Los Angeles downtown construction boom, among other concerns.
The Little Tokyo Service Center is a non-profit community based organization that has been providing services to the greater Los Angeles community for over 29 years. Programs include but are not limited to: assistance for victims of domestic violence, support groups, child abuse and neglect outreach, emergency food and shelter assistance, affordable housing, and community redevelopment. In addition to providing social services, LTSC is committed to the cultural and historic preservation of Little Tokyo and has spearheaded projects to renovate several landmarks for the Japanese American community in Los Angeles including the Union Center for the Arts and the Far East Building.
You can find out more about the Little Tokyo Service Center on their website at www.ltsc.org.