Seattle's Old Japantown & JCCCW (in Japanese)
Japanese Cultural & Community Center of Washington
1414 South Weller Street
Seattle, Washington, 98144
United States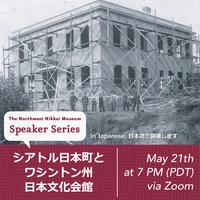 Friday, May 21th at 7 pm - 8 pm (PDT) via Zoom (sign-in required)
In May, the 4th edition in the Northwest Nikkei Museum's (NNM) Speaker Series will be all in Japanese! Arisa Nakamura, a staff member at the JCCCW will present a brief history of Seattle's Japantown & JCCCW! Viewers will learn about early settlement, the hayday of Old Japantown, forced removal and incarceration during World War II, and the return to Seattle including the life at the Hunt Hotel. The content of this online event will be similar to the one held on January 31, 2021, in partnership with Japanese Overseas Migration Museum in Yokohama.
● Register today!
https://forms.gle/912ANYwE4aM7rAjL9
(Registration will close at 5pm PDT on May 20, 2021)
●About the Speaker Series
https://www.jcccw.org/speaker-series

jcccwa . Last modified Apr 29, 2021 12:20 a.m.
---