Kamakura Zen: A Samurai Legacy
Japan Society
333 E 47th Street
New York, New York, 10017
United States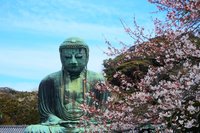 https://www.japansociety.org/event/kamakura-zen-a-samurai-legacy
TALK
Monday, January 27, 6:30 PM
Home to over 60 Buddhist temples, as well as the towering Great Buddha statue, Kamakura is the heart of Zen in Japan. Practiced by samurai and statesmen in Japan's feudal era, Zen Buddhism is still widely practiced today, and can focus the mind and calm the body. At this program, head priest of Jochi-ji Temple of Engakuji, Rev. Eon Asahina, comes from Kamakura to share his wisdom. He is joined by Pamela D. Winfield, Associate Professor of Religious Studies, Elon University, who will illuminate the unique history and culture of Zen in Kamakura.
Tickets: $15/$12 members, seniors & students
Buy a ticket to Get to Know Kanagawa: Hot Springs, Zen, and the Great Wave or Kamakura Zen: A Samurai Legacy and get $5 off Japanese Self-Care: Me-byo!
japansociety . Last modified Dec 09 2019 12:34 p.m.
---