NLF's Annual Theater Show
Palace of Fine Arts Theater
3301 Lyon Street
San Francisco, California, 94123
United States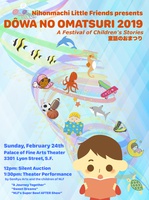 Nihonmachi Little Friends (NLF) is presenting its annual theater production and auction, "Dowa no Omatsuri: A Festival of Children's Stories" on Sunday, February 24, 2019. The event takes place at the Palace of Fine Arts Theater in San Francisco and features GenRyu Arts and the students of NLF.
Highlights include the preschoolers' performances of "Sweet Dreams" and "A Journey Together," showcasing the creativity of the children and teachers, and "NLF's Super Bowl AFTER Show," featuring commercials for the students' invented products presented by the elementary school-age children of the After School Program. The silent auction and live entertainment begin at 12pm in the lobby preceding the 1:30pm theater show. A raffle and refreshments in the lobby will follow the theater performance.
Tickets to the event are $30 in advance, (2 or more are $25 each), or $40 at the door for adults. Youth 5 to 17 years are $10; and children four years and under are free. Proceeds from this fundraiser will benefit the programs and operations of NLF. For more information on the event, contact NLF at (415) 922-8898 or email at nlfchildcare@gmail.com.

mkambayashi . Last modified Jan 29, 2019 11:14 a.m.
---