Origami with Ruthie Kitagawa: Holiday Wreaths and Cards
Japanese American National Museum
100 North Central Avenue
Los Angeles, California, 90012
United States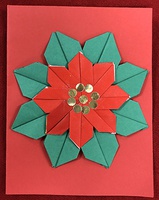 Get ready for the holidays and learn from JANM's resident origami expert Ruthie Kitagawa how to make a holiday-themed origami card and a wreath.
Space is limited to 15 participants. Advance purchase of a ticket is required. $12 non-members, free for JANM members. Museum admission included.
TICKETS AVAILABLE >>

This workshop is made possible in part by a grant from the City of Los Angeles, Department of Cultural Affairs.
In the Nancy K. Araki Community Education Center
Check janm.org for updates.

JANM . Last modified Nov 26, 2018 3:48 p.m.
---