Obon Festival - Kona Hongwanji
Kona Hongwanji
81-6630 Mamalahoa Hwy
Kealakekua, Hawaii, 96750
United States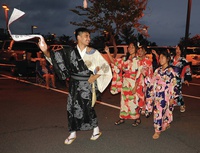 Join Kona Hongwanji for their annual obon festival, a celebration of Japanese culture, ancestry, and religion! Enjoy a night with family and friends as you participate in and learn about Japanese traditional dance and practices. Fun and games for you and the keiki!
The first Hongwanji Temple in Kona was established in 1897. Reverend Gyoshin Sato later moved to Hawaii in September to begin servicing the congregation. In 1900, the first Fujinkai group in Kona was established. In 1901, 3 acres of land was purchased in Kealakekua to build a new temple. It was completed and dedicated in 1907.
Saturday, 7/28 - 7:00 p.m.
Learn more about Kona Hongwanji
Phone: (808) 323-2993

daniyang8 . Last modified Jul 13, 2018 9:13 a.m.
---