Obon Festival - Keei Hongwanji (Kona Hongwanji)
Keei Buddhist Temple
83-5569 Middle Keei Road
Captain Cook, Hawaii, 96704
United States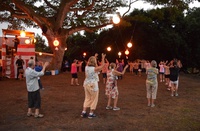 Be a part of Keei Hongwanji's 2018 obon festival, a time to remember and commemorate our ancestors and loved ones! Come to participate in a tradition brought to Hawaii by Japanese immigrants to pass down the culture of their homeland. Food, dancing, and fun for the entire family!
Saturday, 7/21 - 7:00 p.m.; service: 6:00 p.m.
Phone: (808) 323-2993

daniyang8 . Last modified Jul 12, 2018 2:27 p.m.
---