Obon Festival - Kohala Jodo Mission
Kohala Jodo Mission
54-541 Kapaau Rd
Kapaau, Hawaii, 96755
United States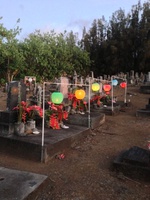 Save the date for Kohala Jodo Mission's 2018 obon festival! Enjoy a fun-filled night of food, dancing, and more as we remember our ancestors and loved ones who have passed. Celebrate this summer festival brought to Hawaii by Japanese immigrants who wished to continue the traditions from their homeland!
Saturday, 7/14 - 7:00 p.m.
Learn more about Kohala Jodo Mission
Phone: (808) 889-5456

daniyang8 . Last modified Jul 12, 2018 1:43 p.m.
---