ASIAN AMERICAN MUSIC FESTIVAL
Aratani Theatre
244 S. San Pedro Street
Los Angeles, California, 90012
United States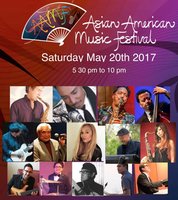 ARTISTS
Jeff Kashiwa
Michael Paulo
Terry Steele
Tateng Katindig
Kimaya
Rene Paulo
Bruce Hamada
Kimo Cornwell
Fred Schreuders
Kayta Mizuno
Ben Sheppard
Dave Inamine
Vinnie Agua
Austin Gatus
and more...
ABOUT THE PERFORMANCE
The Asian Heritage Jazz Festival will feature some of the most renown Asian American Musicians and Artists in America, who have made inroads on a national and global scale along with up and coming stars of tomorrow.


matwiran . Last modified Mar 30 2017 4:48 p.m.
---