Kitsilano walking tour
Kitsilano
Vancouver, British Columbia
Canada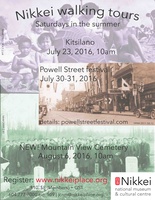 Kitsilano, or "Ki-Chi-Ra-No" to the locals, was home to the second largest Japanese Canadian community in Vancouver. From 1904-1942, over one thousand people settled here and built housing: kyabins (cabins), storefronts, a church, a Japanese Language School, and a public bath. Families ran businesses, worked in the local industry, and children attended Henry Hudson Elementary.
Advance registration required: $10 / $8 NNMCC members + GST.
Space is limited. Register through our website or call 604.777.7000 ext.109.
http://nikkeiplace.org

NNMCC . Last modified Jul 05, 2016 10:58 a.m.
---