Japanese Ghost Stories
Little Tokyo Branch Library
203 South Los Angeles Street
Los Angeles, California, 90012
United States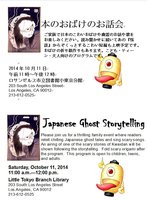 Continuing the 130th Anniversary of Little Tokyo celebration, Little Tokyo Historical Society and the Little Tokyo Branch of the Los Angeles Public Library will be presenting "Japanese Ghost Stories" on Saturday, October 11 at 11:00 A.M. to noon. The program will include readings and clips from DVD-subtitled tales of Japanese ghosts and demons, a Halloween origami craft, and singing fun songs about obake ghosts. The story selections are age appropriate for young children, teens and adults. At the Information Desk, the library validates for 90-minute parking in the Paragon Parking Lot adjacent to the library.
For more information please contact Little Tokyo Historical Society at littletokyohs@gmail.com or phone Michael Okamura, president, at 626-840-8409.

lthistory . Last modified Oct 07 2014 10:55 p.m.
---