Murder on Bamboo Lane by Naomi Hirahara
Japanese American National Museum
100 North Central Avenue
Los Angeles, California, 90012
United States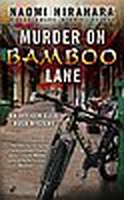 The first in a new series by Naomi Hirahara featuring LAPD bicycle cop Ellie Rush!

Bike cop Ellie Rush dreams of becoming a homicide detective, but it's still a shock when the first dead body she encounters on the job is that of a former college classmate.

At the behest of her Aunt Cheryl Toma, the highest-ranking Asian American officer in the LAPD (a source of pride for Ellie's grandmother, but annoyance to her mom), Ellie becomes tangled in the investigation of the coed's murder—with equal parts help and hindrance from her nosy best friend, her over-involved ex-boyfriend, a smoldering detective, and seemingly everyone else in her extended family…only to uncover secrets that a killer may go to any lengths to ensure stay hidden.
For more up-to-date information about this event, please visit the Japanese American National Museums' events page: http://www.janm.org/events/2014/05/#24

JANM . Last modified Apr 28, 2014 5:37 p.m.
---