WEST COVINA TEMPLE OBON
West Covina Buddhist Temple
1203 W. Puente Ave.
West Covina, California, 91790
United States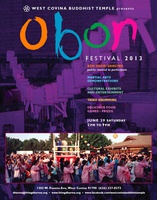 "West Covina Buddhist Temple, 1203 W. Puente Ave., will hold their Obon on Saturday, June 30. The festival lasts all day, from 2 to 9 p.m. Please join us for a day full of Japanese culture, cuisine and of course, the exciting and spiritually meaningful Obon Odori Dancing. Performances by Bodhi Tree Band and Kishin Daiko. Enjoy chicken teriyaki prepared by the WCBT Chicken Teriyaki Crew."
For more information, visit:
http://www.livingdharma.org./CurrentEvents/ObonComing.html

SKH . Last modified Jun 26, 2013 5:34 p.m.
---