Coming Home: Lecture by Brian Komei Dempster
University of Oregon, Portland
Event Room 142/144
70 NW Couch Street
Portland, Oregon, 97209
United States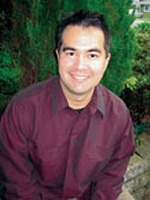 Coming Home speaker series:
Japanese American Imprisonment and Resettlement: The Power of Our Stories
Lecture by Brian Komei Dempster, followed by a question and answer session and book signing
Saturday, February 23, 2013, 2:00 p.m.
Free, open to the public
In this presentation, University of San Francisco professor Brian Komei Dempster will speak to the critical importance of storytelling for Japanese Americans and the power of writing to document, empower, and heal. A Sansei (third-generation Japanese American), Dempster will share his experiences of designing community-based writing workshops for and collaboratively working with a group of mostly Nisei Japanese Americans who were imprisoned during World War II in America's concentration camps. Tracing the evolution of this dynamic and intergenerational writing project, Dempster will describe the pedagogical model he utilized along with the rewards and challenges of the creative process for both he and the Nisei writers. Dempster will show how the two anthologies that emerged – From Our Side of the Fence: Growing Up in America's Concentration Camps (Kearny Street Workshop, 2001) and Making Home from War: Stories of Japanese American Exile and Resettlement (Heyday, 2011) – are vital tools towards realization of the project's primary goal: to get other Japanese Americans to tell their own stories. This presentation will be held at the University of Oregon, Portland, Event Room 142/144.
Coming Home: Voices of Return and Resettlement, 1945-1965 is an exhibit that traces the reestablishment of the Japanese American community in Oregon after World War II and examines the injustices of war-time relocation. The Coming Home exhibition has been woven from personal stories of return and resettlement by Nikkei — men, women, and children of Japanese descent — forced from their Oregon farms and homes and incarcerated as "enemies" during World War II. Most were American citizens. Many had lost everything. Determination and memories of place, family and community guided them home. Visit www.oregonnikkei.org to learn more about Coming Home.
This exhibition and programming are made possible in part by the Oregon Heritage Commission and Oregon Parks and Recreation Department; Oregon Humanities (OH), a statewide nonprofit organization and an independent affiliate of the National Endowment for the Humanities, which funds OH's grant program; Portland State University, Center for Japanese Studies; University of Oregon; Samuel Naito; and Friends of Oregon Nikkei Endowment.
Oregon Nikkei Legacy Center
121 NW 2nd Avenue
Portland, OR 97209
503-224-1458
www.oregonnikkei.org

Oregon_Nikkei . Last modified Jan 27, 2013 11:48 p.m.
---