2012 Kokoro Craft Boutique
Japanese American National Museum
100 N Central Ave
Los Angeles, California, 90012
United States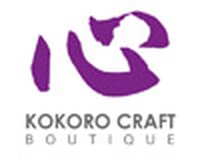 Showcase and sale of unique, high quality, handcrafted, artist designed merchandise.
Craft items for sale include: origami art, unique jewelry, kimono fabric clothing, handbags, silk/yarn scarves, ceramic and miniature bronze sculptures, cultural t-shirts, stationery, glass art, and much more!
Free admission to Japanese American National Museum exhibitions with craft show purchase (September 30, 2012 only). On the Plaza: Yuujou Taiko will perform at 12PM.
Shoppers can take the Metro Gold Line to the Little Tokyo Arts District~1st & Alameda. (Cash or Checks please)
Sponsored by Friends of the Museum. For more information, email: kokorocraft@gmail.com

JANM . Last modified Aug 27, 2012 3:34 p.m.
---