Common Ground Exhibition Grand Opening
JAMuseum of San Jose
535 N. Fifth Street
San Jose, California, 95112
United States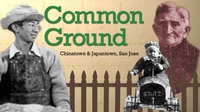 This September, guest curators Connie Young Yu and Leslie Masunaga will unveil a special exhibit, "Common Ground: Chinatown and Japantown, San Jose," at JAMsj that focuses on the story of Heinlenville, San Jose's last Chinatown. Yu is the author of Chinatown, San Jose, USA, now in its fourth edition. The new JAMsj exhibit will focus on the personal story behind Heinlenville's residents and chronicle that community's relationship to and influence on current-day Japantown.

The exhibit will feature artifacts from a 2008 Sonoma State University archaeological excavation of the Heinlenville site. Included in the collection are personal mementos of the guest curators, including a check made out by Masunaga's grandfather to the Tuck Wo store, and objects from Yu's family. There will also be a video associated with the exhibit that incorporates photos and interviews.
The grand opening event will include a talk by guest curators, Connie Young Yu and Leslie Masunaga. Space is limited for the discussion. Contact events@jamsj.org or call the JAMsj office at (408) 294-3138 to reserve your space
More info: http://www.jamsj.org/japanese-american-history-museum-san-jose/news-and-events

JAMsj . Last modified Sep 17, 2012 7:18 p.m.
---