SFNewTech x btrax Japan Night: Catalyst for Revival
Mighty San Francisco
119 Utah Street
San Francisco, California, 94103
United States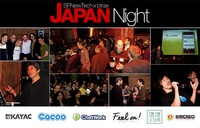 On June 28, 2011, btrax will be holding the 2nd SF Japan Night in conjunction with SF New Tech. The theme of this event is "Catalyzing the Revival" where we are encouraging our local SF Bay Area tech community to help the Japanese economy in disaster relief by jump starting six lucky Japanese startups onto the global stage.
Since May 1, we have been soliciting Japanese web start-ups for six spots at Japan Night and the response has been great. Bolstered by the success of companies like myGengo, who got local VC funding after last year's Japan Night, 30 companies applied and 19 of them passed into the second round. Through rigorous selection, 6 promising start-ups were selected as finalists to present their products to the global audience.
With the revival theme in mind, the selection criteria for the first round was creativity and ability to communicate in English. The second round selection criteria was more stringent as companies created a YouTube product demo video in English to be reviewed by Bay Area professionals. Overall, the companies were selected based on visual aesthetics, English communication skills, usability of the product, possibility of oversea expansion, and creativity.
Our hope is to provide an on-going platform for start-up companies in Japan to participate on the global stage with the first stop in San Francisco- the ground zero for high tech web /mobile start-ups. We are expecting over 300 people to be attending this unique event and we appreciate the support from the local community for disaster relief and future of our growing start-ups.
We hope to get media and sponsors who want to help these start-ups by promoting our final presenters. Also, we appreciate media coverage to support this great cause. Individual interviews with each of the finalists and media pass are available upon request. Inquiries to acquire a media pass or to learn more about becoming a sponsor, please contact japannight@btrax.com
You can buy tickets here: http://www.eventbrite.com/event/1768536741/freshtrax/5185417604
Event Information
Date: June 28th, 2011 (Tue) 17:00 – 23:00
Location: Mighty San Francisco / 119 Utah Street, San Francisco, CA 94103
Website: http://sfjapannight.com/en
Event Organizer Information
btrax, Inc.
Address: 665 Third Street, Suite 505, San Francisco, CA 94107
Services: Cross-cultural Website Design, Marketing, Research/Branding
URL: http://www.btrax.com
Japan Night Contact Information
btrax, Inc.
Teru Takizawa
TEL: (415)-344-0907
E-mail: japannight@btrax.com

mkochiyama . Last modified Jun 25 2011 12:52 p.m.
---