Bainbridge Film Festival. Films by Lucy Ostrander
Japanese American National Museum
100 N Central Ave
Los Angeles, California, 90012
United States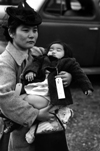 This is a one-day film festival about Bainbridge, an island located near Seattle. Find out more about it's unique history and people. A filmmaker Q&A will follow the last screening.
Program is free with admission. Reservations recommended to rsvp@janm.org or 213.625.0414 at least 48 hours prior to the event. Include the name, date, and time of the program, as well as your name and the total in your party.
Please note that each film is about 10 minutes.
Port Blakely: Memories of a Milltown
This documentary depicts the rise and fall of the largest sawmill in the world and how its legacy affects Bainbridge Island, Washington. This raw seaport and mill attracted immigrants from all over the world who were searching for a job and a better life. Stories and memories reveal the surprising histories of the Native American, Scandinavian, and Japanese communities that once thrived alongside each other in this bustling town.
The Red Pines
This companion piece portrays the struggle of Japanese American immigrants on Bainbridge Island, and the legacy of their culture in the present-day community. From the laws preventing Asians from purchasing land to the incarceration during World War II, the Japanese Americans had to exert an extraordinary amount of spirit and hard work to prosper.
Island Roots
This film focuses on the Filipinos who came to Bainbridge, mostly working on Japanese American owned strawberry farms in the 1920s and '30s. It is the story of their relationship not only with other Island residents, but in particular to the Japanese American farmers and Canadian First Nation migrant workers, many of whom married the Filipino bachelors.
Fumiko Hayashida: The Woman Behind the Symbol
A photograph taken of Fumiko Hayashida, holding her 13-month old-daughter, as she waited to be taken off the Island by armed military escorts, has since become a lasting iconic symbol of the internment experience. This documentary is both a historical portrait of Fumiko and her family as well as a contemporary story of how the iconic photograph became the impetus for Fumiko to publicly lobby against the injustices of the past.
A Special Screening of: Honor and Sacrifice: Nisei Patriots in the MIS
A documentary about the Japanese American men who were incarcerated in concentration camps, enlisted in the U.S. military, and volunteered to become linguists in the Military Intelligence Service in the Pacific Theater of WWII. The film focuses on the experience of Roy Matsumoto and his personal journey–from being born an American, raised in Japan, sent to Jerome, Arkansas concentration camp as a young man, to enlisting in the U.S. Army and becoming a hero in fighting the Japanese Army in Burma as part of the U.S. military unit known as Merrill's Marauders. Produced for Washington State's Office of the Superintendent of Public Instruction.

JANM . Last modified Apr 23 2011 7:41 p.m.
---