Tinsagu nu Hana: Our Indelible Heritage
Baldwin High School Auditorium
1650 Kaahumanu Ave.
Wailuku, Hawaii, 96793
United States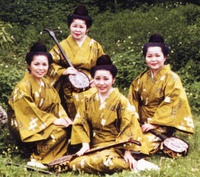 The Four Sisters, one of Okinawa's most respected traditional music groups, are returning to Maui after more than a decade to share their gift of song in a benefit concert entitled Tinsagu nu Hana: Our Indelible Heritage at the Baldwin High School Auditorium in Wailuku on Saturday, December 4, 2010 at 3:30 pm. Tickets are $20 pre-show and $25 at the door. Tickets go on sale October 25th. To purchase tickets or for more information call 808-242-1560 (Maui Okinawa Kenjin Kai).
This performance is one of several benefit concerts to be held in Hawaii, and is sponsored by Ukwanshin Kabudan, the Young Okinawans of Hawaii, Maui Okinawa Kenjin Kai and the Maui Ryukyu Culture Group. Proceeds of the Maui performance will go towards perpetuating the Okinawan culture and arts on Maui. For further information on the Four Sisters and their Oahu performances visit: http://www.ukwanshin.org/blog

nikkeisansei . Last modified Oct 05, 2010 6:12 p.m.
---