Sakura Songs: The Music of Leslie Uyeda
National Nikkei Museum & Heritage Centre
6688 Southoaks Crescent
Burnaby, British Columbia, V5E 4M7
Canada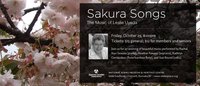 The National Nikkei Museum & Heritage Centre continues it 10th anniversary celebrations with an evening of the beautiful music of Leslie Uyeda performed by Kathryn Cernauskas (flute/bamboo flute), Rachel Kiyo Iwaasa (piano), Heather Pawsey (soprano), and Sue Round (cello) in the magnificent ellipse lobby of the NNMHC.
Composer Leslie Uyeda will act as musical host for evening, which includes her haiku songs; songs for soprano and flute with poetry by Joy Kogawa; the world premiere of a new song cycle with poetry by Lorna Crozier; plus music by Poulenc and Ravel.
This concert is dedicated to the memory of Leslie's Japanese Canadian family – her father Yutaka Uyeda, her aunts Mariko and Lily, and her grandparents Bunjiro and Kimi Uyeda who, in the 1930's, donated a thousand cherry trees to the City of Vancouver.
Generously supported by Canada Council for the Arts – Conseil des Arts du Canada, National Association of Japanese Canadians, City of Burnaby and Burnaby Arts Council.

NNMCC . Last modified Oct 16 2010 12:24 p.m.
---