Chicago History Museum Exhibit "Facing Freedom"
Chicago History Museum
CHICAGO, Illinois
United States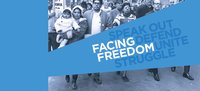 The Chicago Japanese American Historical Society has on loan to the Chicago History Museum a number of artifacts for their permanent exhibit "Facing Freedom".
The Naphtali ben Yakov Pritzker American History Wing

Facing Freedom
Now Open
What does freedom mean? To whom should freedom be extended? How are denied rights gained? These are some of the questions the new American history exhibition explores. Based on the central idea that the history of the United States has been shaped by conflicts over what it means to be free, this new exhibition uses images, artifacts, and interactivity to explore familiar and not-so-familiar stories from the nation's past. From women's suffrage and the formation of unions, to Japanese internment, to a local school boycott, the exhibition highlights some of the ways Americans have struggled over the true meaning of freedom.
Location
1601 N. Clark St.
Chicago, IL 60614
312.642.4600
Website: Chicago History Museum

intrepidmouse . Last modified Sep 14 2010 10:46 p.m.
---