Wednesday Night at the Movies; Only the Brave
At the NJAHS Peace Gallery
1684 Post Street
San Francisco , California, 94115-3604
United States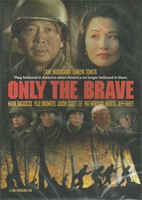 Film screenings about Japanese American wartime experience is on every Wednesday evenings. Furikake popcorn and green tea will be provided. Donations suggested.
Only the Brave. Lane Nishikawa. A riveting film inspired by historic events. The all-Nisei (2nd generation Japanese American) 100th/442nd Regimental Combat Team were ordered to reach the 141st Regiment, no matter the cost. Facing a larger enemy force, the Nisei broke through the German line, but at a tremendous price. The unit suffered over 800 casualties to save 211 soldiers of the "Lost Battalion" in what is regarded today as one of the ten most significant battles of World War II. Produced by Lane Nishikawa, starring Tamlyn Tomita, Mark Dacascos, Jason Scott Lee, Pat Morita, Jeff Fahey (2006, 99 minutes).

njahsdev . Last modified Oct 10, 2010 4:45 p.m.
---