Wednesday Night at the Movies; You Don't Know Jack: The Jack Soo Story
At the NJAHS Peace Gallery in Japan Town
1684,Post Street
San Francisco , California, 94115-3604
United States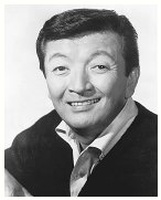 Film screenings about Japanese American wartime experience is on every Wednesday evenings. Furikake popcorn and green tea will be provided. Donations suggested.
You Don't Know Jack: The Jack Soo Story. Jeff Adachi. You Don't Know Jack tells the fascinating story of a pioneering American entertainer Jack Soo, an Oakland native who became the first Asian American to be cast in the lead role in a regular television series Valentine's Day (1963), and later starred in the popular comedy show Barney Miller (1975-1978) (2009, 60 Minutes).

njahsdev . Last modified Nov 06 2010 12:38 a.m.
---