30th Annual San Jose Day of Remembrance 2010 -- Redress/Reparations: Unfinished Business
San Jose Buddhist Church Betsuin
640 N Fifth St
San Jose, California
United States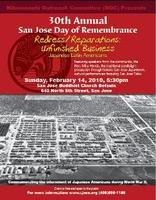 Commemorating the internment of Japanese Americans during World War II.
Featuring speakers from the community, the Hon. Mike Honda, the traditional candlelight procession through historic San Jose Japantown, cultural performances featuring San Jose Taiko.
Event is free and open to the public.
For information: www.sjnoc.org, 408.505.1186

vkm . Last modified Jul 09, 2010 12:14 p.m.
---