53rd Annual SKA Nisei Week Karate Exhibition and Tournament
Caltech Braun Gym
1200 E. California Blvd.
Pasadena , California, 91125
United States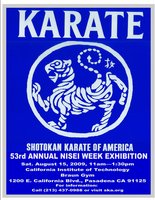 The 53rd celebration of the first public demonstration of Karate in the United States. Oldest, continuing public Karate demonstration. Sponsored by the non profit, Shotokan Karate of America. Our chief instructor is Tsutomu Ohshima, direct pupil of Master Gichin Funakoshi, founder of modern Karate.
Event, and parking, are free.
Please visit us at ska.org and maryknollkarate.com.

MaryknollKarateClub . Last modified Jul 09 2010 12:12 p.m.
---